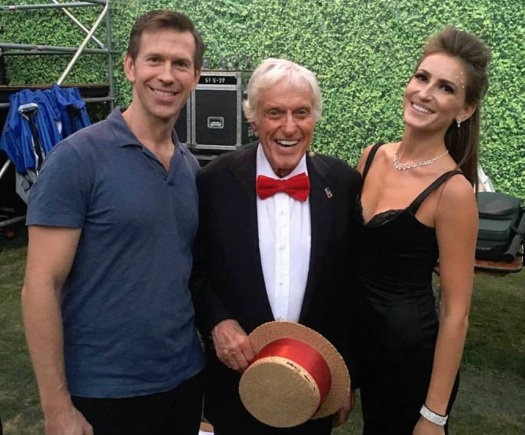 We had the honor and privilege of sharing the stage with the living legend, Dick Van Dyke!! He performed "Trouble" from Music Man (and what a great performance!!) and we danced in two numbers with The Pasadena Pops Symphony and Michael Feinstein.
Here's a great aspect about how we work. Let's say you've picked the theme of your event, be it anything from a 50's sock hop, to Havana Nights or something out of this world. One couple or even several couples can come to make your event a memorable one. We pick music and have routines that will enhance any extravaganza. What is it you see at your event? A hot and flirtatious Cha Cha? A deeply passionate Argentine Tango? A fun and crazy Lindy Hop? Or some smooth and heart warming Fred Astaire? We have a huge repertoire. I don't know how many times we've heard: "Wow, you really MADE our party." That is music to our ears!! We have a ton of fun so your guests have a ton of fun. Even if you have no theme at all, we are sure to liven every party and get your guests "In the Mood".

We'll arrive at your venue a half hour before our performance to get dressed in our amazing costumes and arrange the music with the DJ in either CD or iPod format. It's great for us to have a dressing room in which to set up, stretch, and wait to dazzle your guests. We've even performed complete routines with a full orchestra. That just has to be coordinated in advance. We can arrange to perform one set of a few show numbers and/or have a 5-10 minute costume change for every number to really add glamour to your event, or any combination to make your event dreams come true. During the performance, we've grabbed guests to dance with us, really adding excitement and thrill to the evening. After dancing we can dance with your guests and start your party right, even teach a small dance lesson. Whatever your vision is, we will powerfully add to your event. We love what we do and your guests will too!!