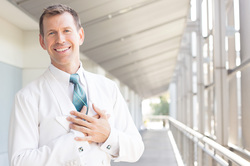 Inspiring others through teaching and performance is a gift and passion that is part of his mission in life. Several of his students have been told that they're so good they should be teachers, a few of his students have gone on to become teachers and he presently trains dance teachers as well.

Forrest appeared in "The Ugly Truth", Disney's "Haunted Mansion", and commercials for Jack-in-the-Box and Pepsi – just to name a few adventures, including 3 performances at the Hollywood Bowl. He has also been a guest dancer on "Dancing With The Stars". He had a great time dancing Lindy Hop and Foxtrot in "The Gangster Squad" with Ryan Gosling, Emma Stone and Sean Penn. Look for him dancing Lindy in "Hail, Caesar!" which stars an amazing a-list cast including Channing Tatum.

Forrest has had the privilege to perform at so many incredible venues, including the Hollywood Bowl, the Alex Theater in Glendale, The Gerald Ford Theater with Bravo Vail!, the beautiful Cicada Club in Los Angeles, and the Ford Amphitheater with Barbara Morrison. And he recently realized part of his mission statement to help create a world where everyone would greet each other as they walked down the street with smiles and joy, when he participated in the 2014 Rose Parade walking and dancing the cakewalk for 5 ½ miles! He is a proud member of the cast of "Let's Dance! With Jeff Tyzik".

Proud of his competition record, as well, he is a two time Open Professional American Smooth Champion and an Open Professional International Latin Champion. He has won competitions in Lindy Hop, Argentine Tango and Salsa as well.

He has written a screenplay featuring Ballroom and Social dancing. He also has a Masters Degree in Opera: Solo Voice Performance.

It is truly satisfying to teach and entertain others, and he greatly enjoys hearing both an audience's and student's compliments and appreciation at his performances and lessons. I love the smiles on my students faces when they succeed and do something they never thought they could do! I had one adult female student's mother cry to see her daughter dance so beautifully. I love that when I teach, my students get to enjoy dance for the rest of their lives!

---